IN TALKS with OLIVER FJ JONES
22.09.21
Words by Tegan Jaimie
Every year we are met with a fresh cohort of emerging graduate designers adding their names to the lexicon of the fashion industry.
Oliver FJ Jones is one such new designer entering the space. While the jury is still out on what it truly means to be 'sustainable' in the industry today, one thing is for certain we still live in a culture that privileges commodity and trend over re-purposing and circularity when it comes to our consumerism.
Enter, Oliver FJ Jones, the Edinburgh College of Art graduate who is elevating the upcycling fashion scene where his reworked vintage bags emblazoned with his signature warped homo print are a hit here at LUNCH. So much so, his whole family is now scouting out vintage bags for him. A true reworking masterclass in how the industry should be addressing sustainability.
Below, Oliver discusses the origins of his namesake brand, delves deeper into his sustainability thoughts, and also his plans to develop his identity as a young designer.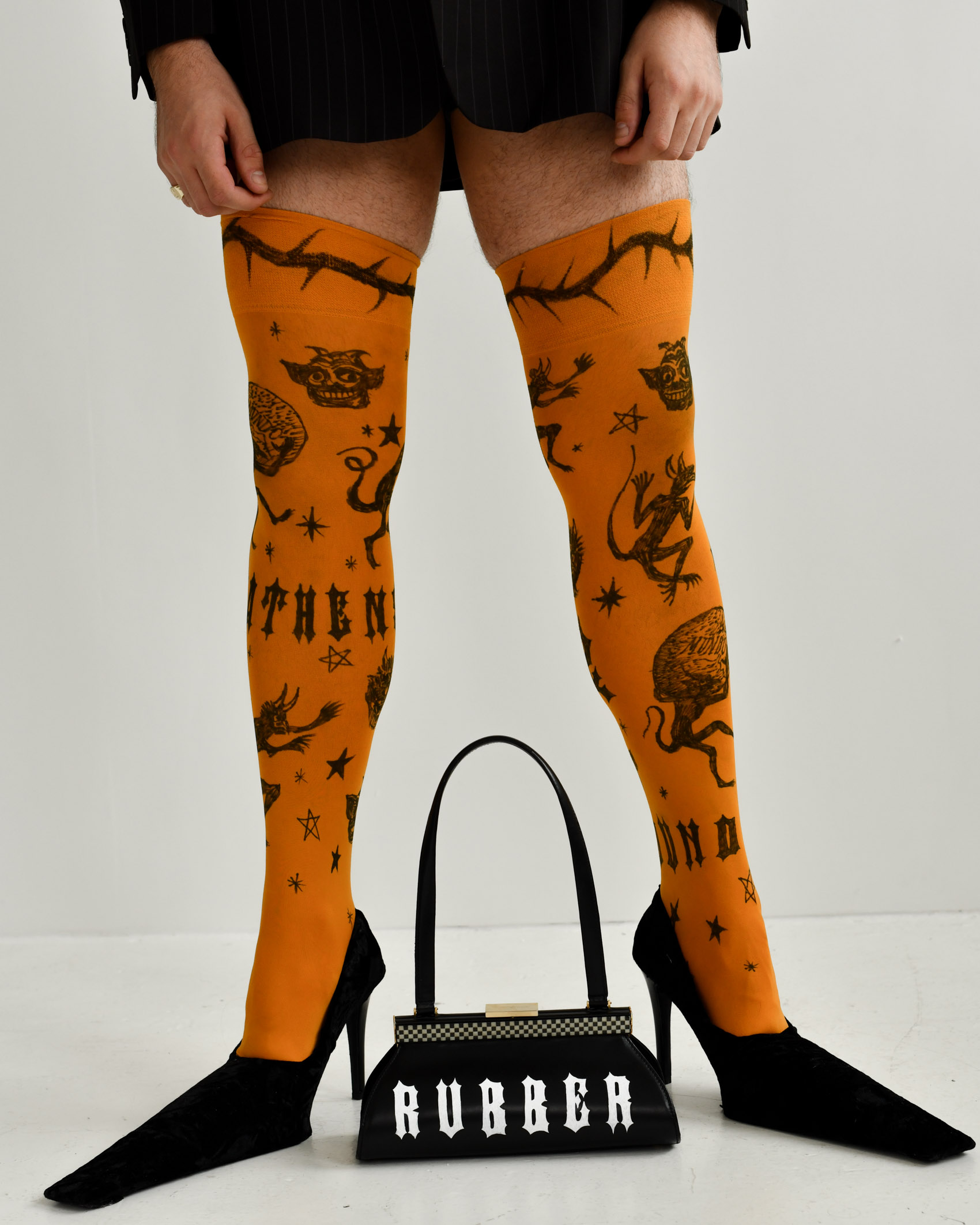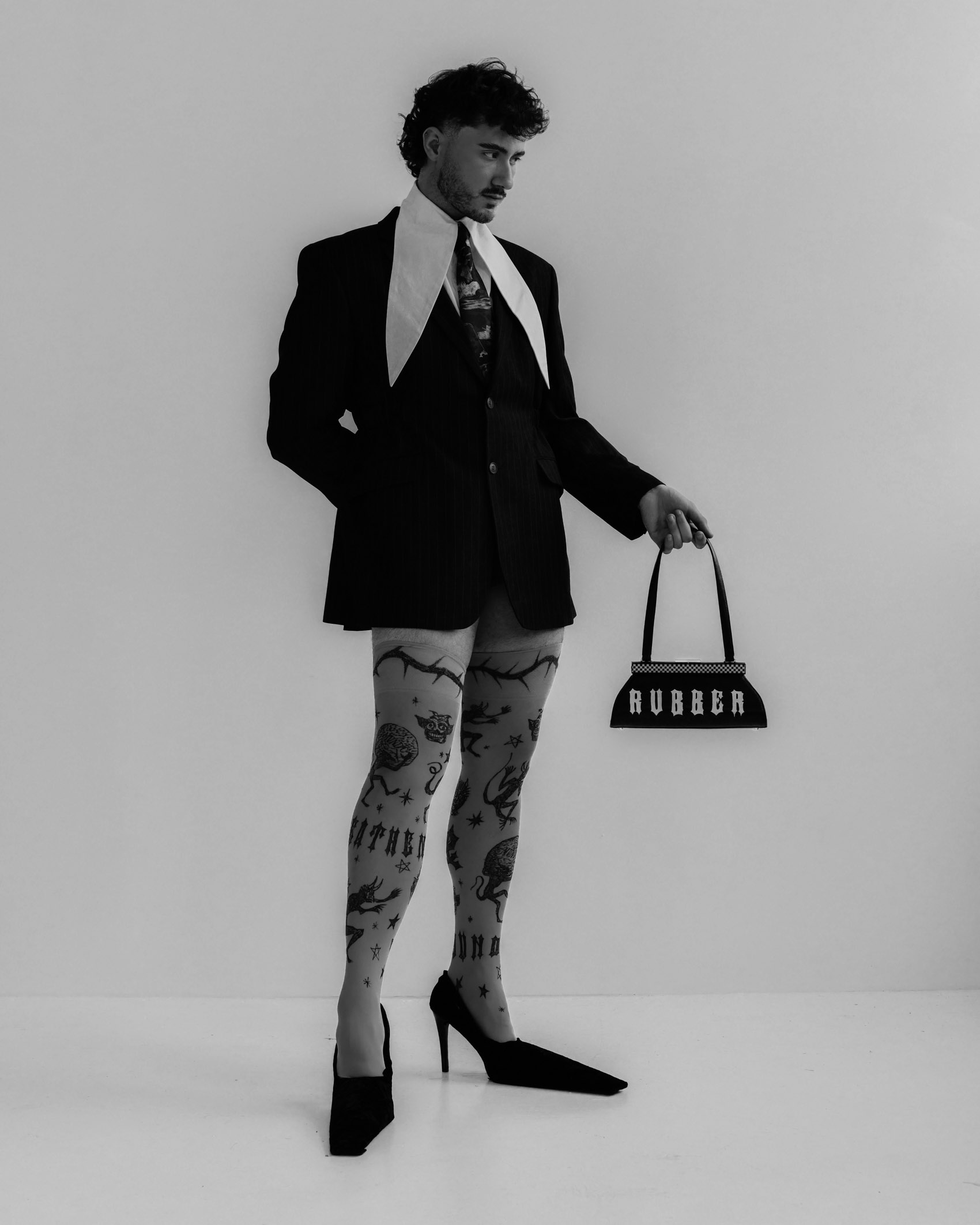 EXPLAIN THE DNA OF YOUR NAMESAKE BRAND, OLIVER FJ JONES?
The DNA of an Oliver FJ Jones piece is often intertwined with historical nuance and attitudes towards gender. The brand exists as a catalyst for me to play with my own interests in medieval history, allowing me to turn aspects of it on its head. Growing up in the city of Lincoln meant I have always been surrounded by gothic religious iconography from Lincoln Cathedral to its historic castle. I think this is where my exploration started from. Being someone who grew up around Christianity meant that gothic architecture, choral music, and ancient stories were part of my upbringing. Only was it when I grew older and came aware of my identity did I start to question my own faith. I look at religious iconography more as a gateway into a wealth of history and inspiration. Using religion's history of persecution against anything 'ungodly' as a source for inspiration. This is what I hope my brand's DNA stands for. I am far more interested in the way my brand can serve to reinvent and reclaim these ideals. My first collection 'HOMO' dealt with these sorts of ideas, from knightly figures wearing adorned tights and elongated heels mimicking medieval lancing shoes. The collection did and probably still does act as a base for many other concepts I create.
WHERE DO YOU DRAW INSPIRATION FROM?
Inspiration comes to me in so many different forms, from books, films, history, and even music. The collections I've created are often grounded in a world in which I design and envisage. Maybe controversially, I try to stay away from directly looking at other designers' work both present and previously too much when designing. I personally find the success of a collection comes from something uniquely individual from the designer. It's fantastic seeing what's happening in the world of design but often it can cloud my own creativity and voice behind my designs. There's a lot more gratification that comes with designing something you feel personally attached to and connected to.
My latest capsule collection 'HEATHENS & HOUNDS' came to me whilst researching Hieronymus Bosch's work. I took fragments of colour from his paintings and put my mind to how I could reimagine these oddly painted figures through my own eyes. Often inspiration stems from the smallest of encounters with textures, mediums, and print. For instance, I knew I wanted to play with the idea of vintage painted leather against fur and how that might make the wearer feel. My warped homo print stemmed from a want to create a pattern that only on inspection you'd realise it spelled out homo. These, often small, ideas can often build and build to form a much greater body of work.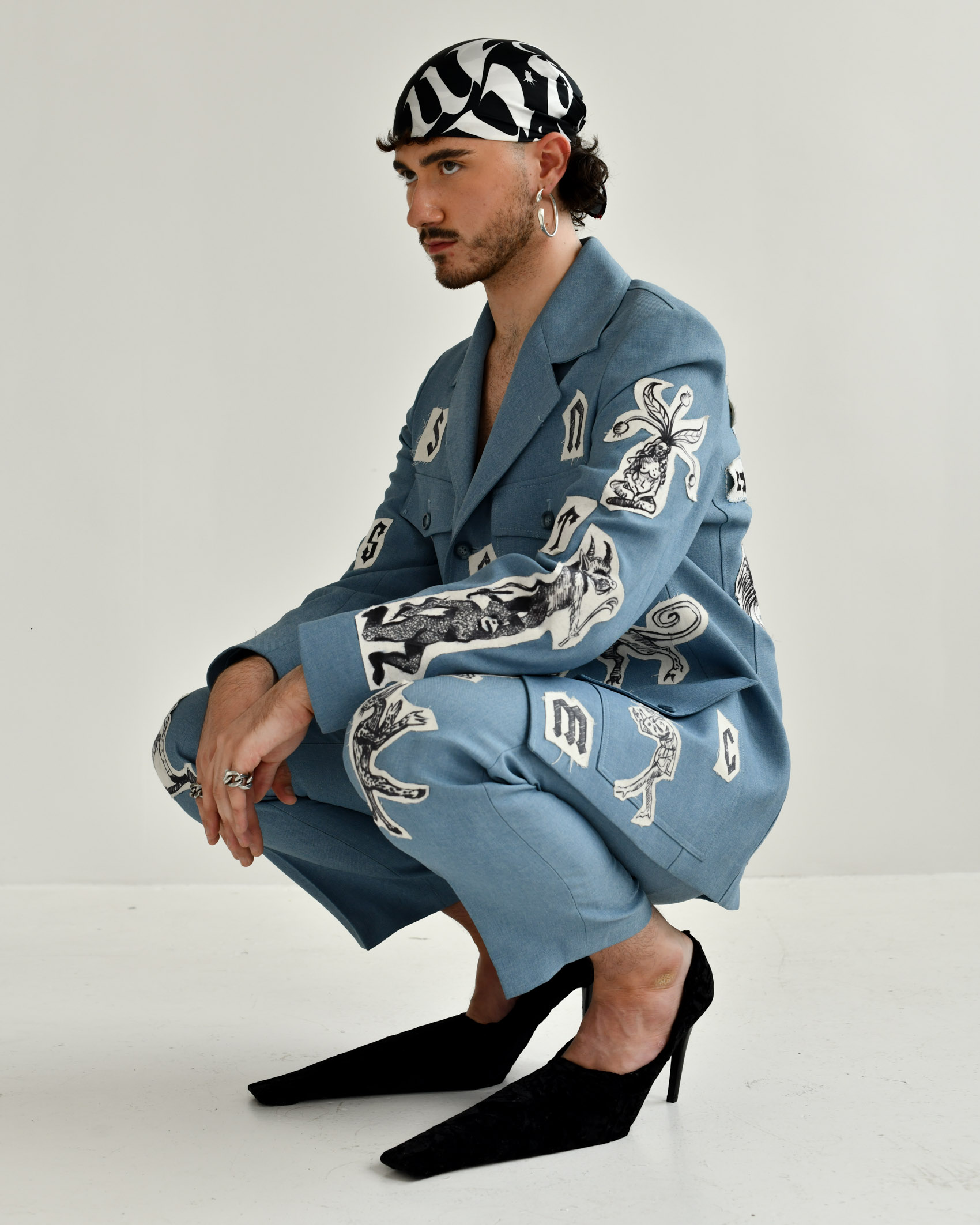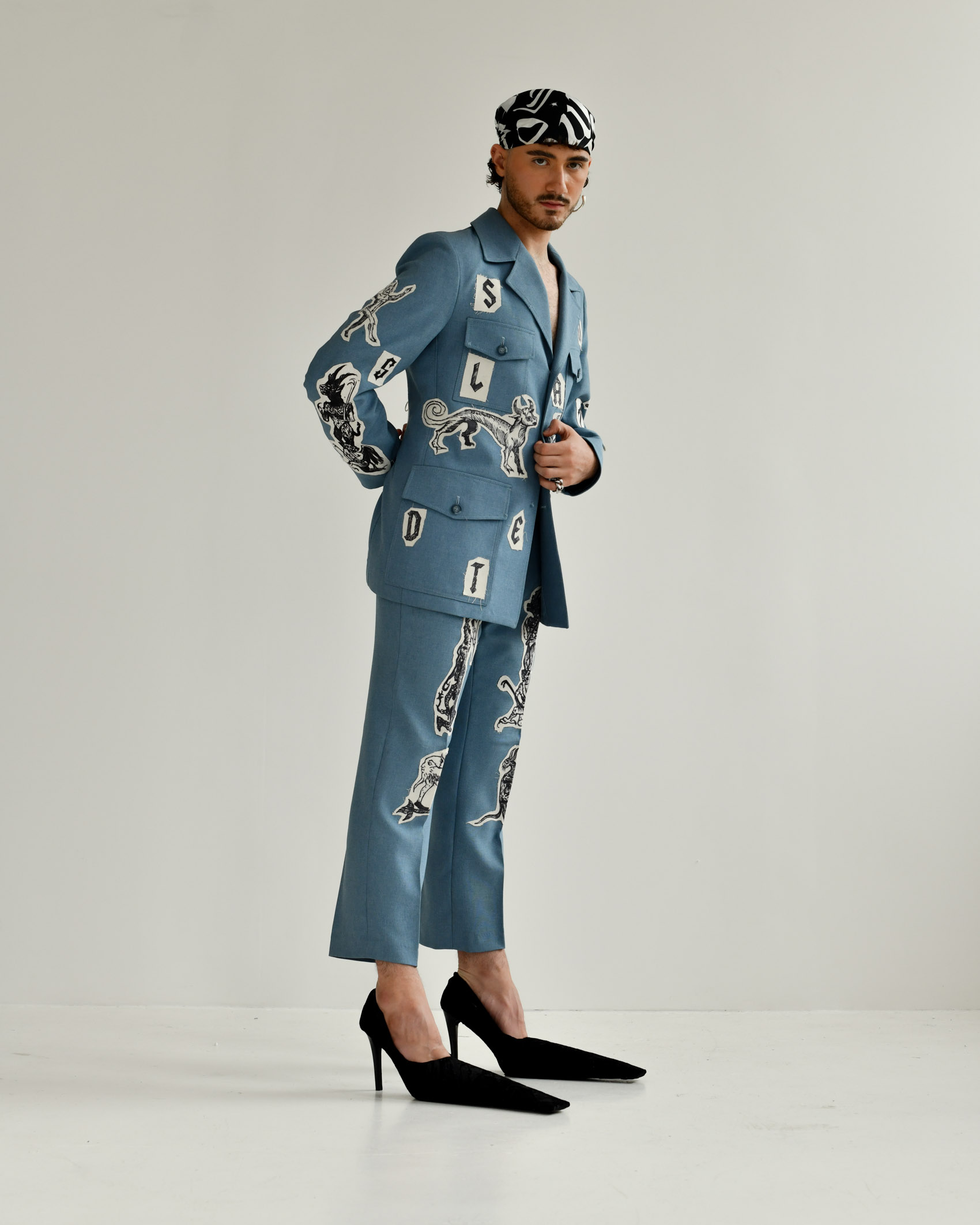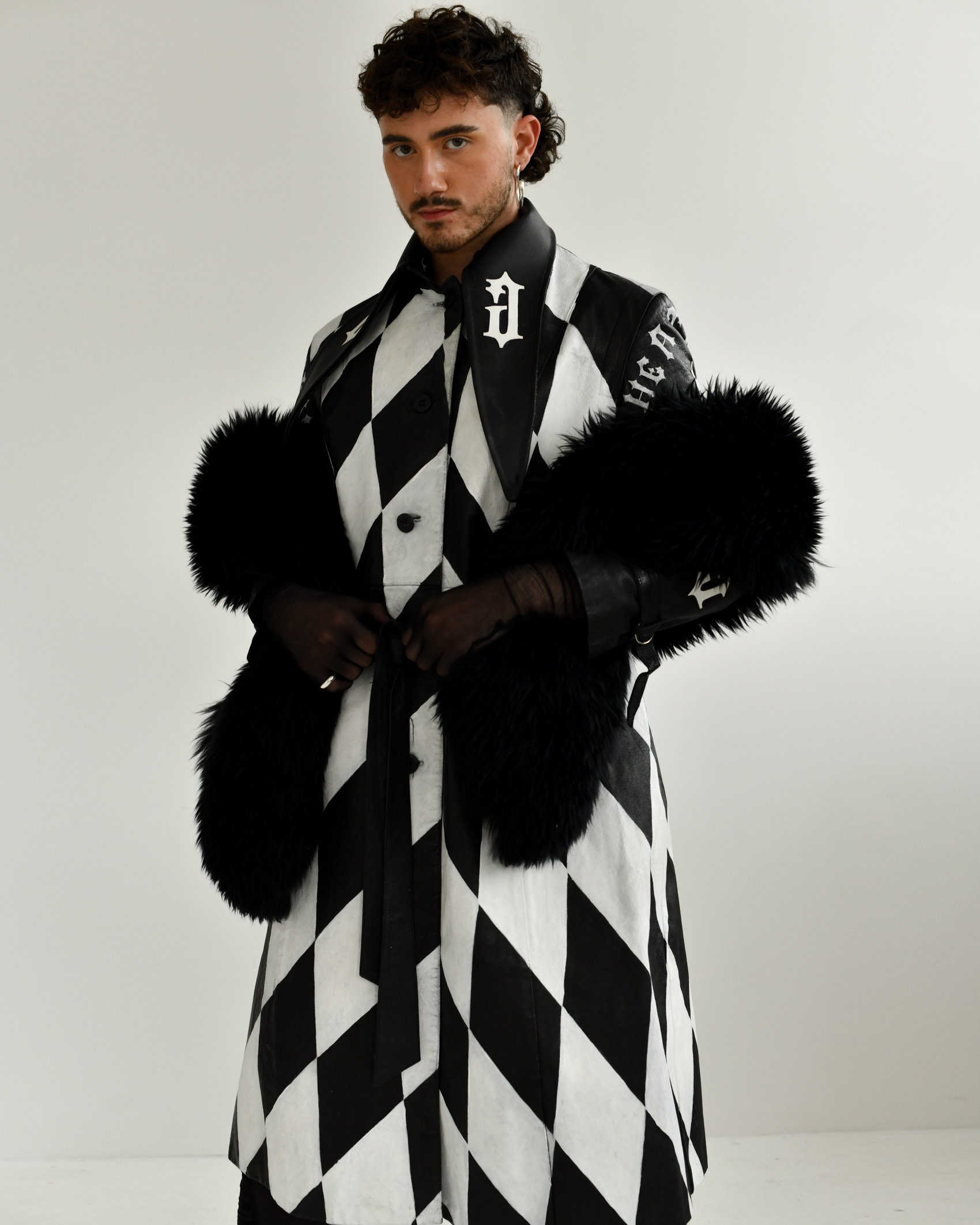 AS A RECENT GRADUATE, WHAT'S YOUR PERCEPTION OF THE INDUSTRY TODAY?
My love for designing concepts for fashion is often conflicted with what the industry sadly has become. I tend to approach my design similar to that of art. The collections and clothing I have reworked exist beyond seasonal fast-paced trends. I strongly believe the industry of fashion needs to readdress its message and responsibility within society. There are so many possibilities and messages clothing can showcase that often is missed. For too long huge corporate fashion businesses have sought fashion as a commodity, and placed emphasis purely on its commercial value.
I hope my brand welcomes creatives to think openly about what fashion can really be and mean for people. I hope to put emphasis on concept, story, method, and uniqueness in order to really connect and celebrate individuality. The vibrancy and eclectic nature of fashion has often been missed and replaced by trend and commodity. I also personally would like to see more infrastructure for younger emerging designers to be celebrated regardless of location.
WHY IS SUSTAINABILITY IMPORTANT TO YOU AS A YOUNG BRAND AND HOW DOES THIS FEED INTO YOUR CREATIVE PROCESS?
Sustainability should, I hope, be seen as an expected duty of young designers working and practicing in 2021. My personal approach to designing has often been restricted to previously vintage items which have forced me to think creatively. These items ultimately go on to exist as a single one-off piece to be coveted by the buyer. I feel really strongly about the idea of limited stock buying which celebrates this idea of a one-off piece. I hope in turn this encourages people to think of fashion as not only something commercial but something that exists as a story, a memory, and an individual.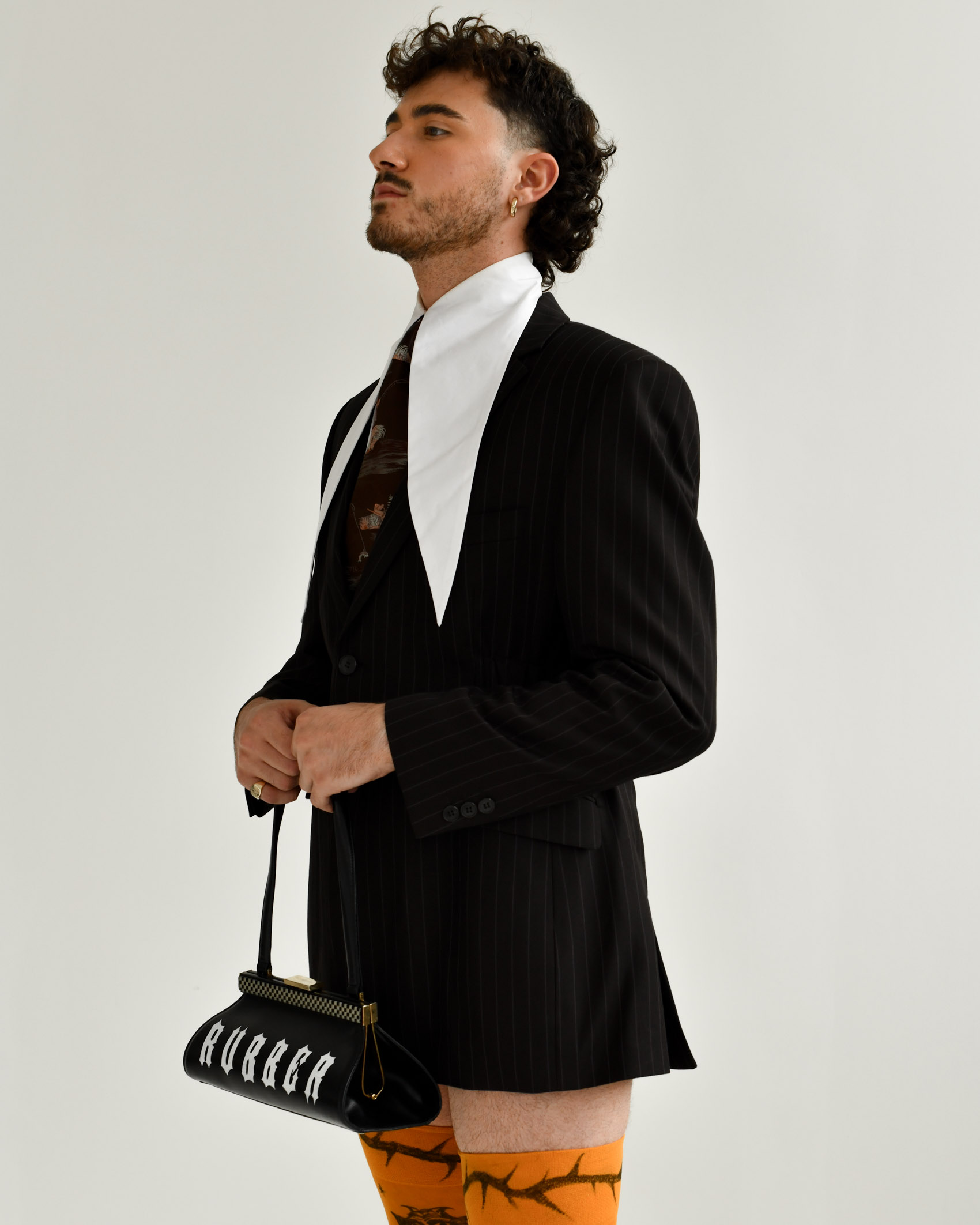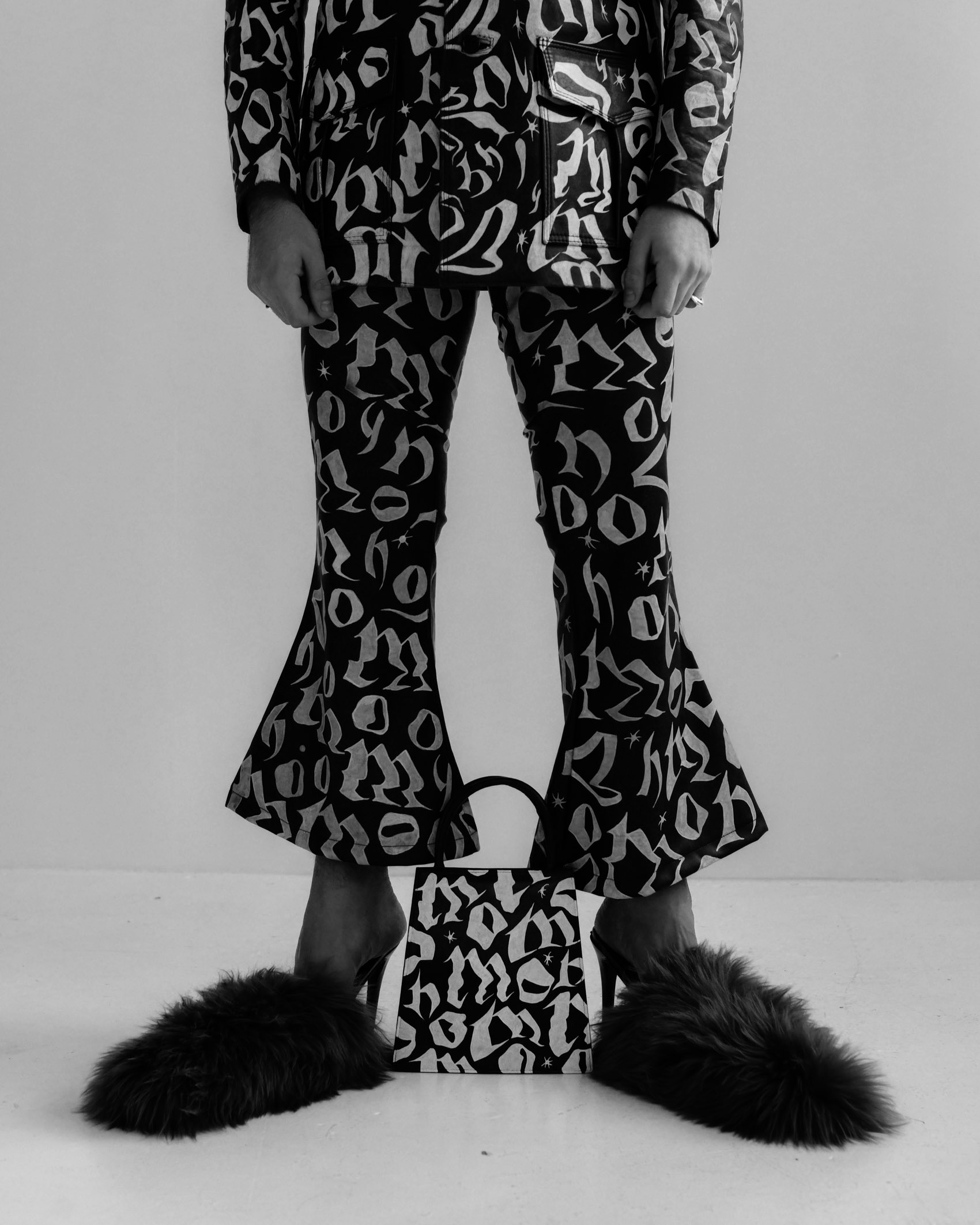 HOW DO YOU SEE YOURSELF GROWING AS A BUSINESS? AND WHAT DOES A SUSTAINABLE BUSINESS MODEL LOOK LIKE TO YOU?
I hope to see my business develop to showcase both reworked pre-loved items along with handmade small run pieces which push fashion's relationship with art and concept. I hope to see my brand become a wealth of bespoke items which celebrate diversity, inclusivity, and non-gendered fashion. I see my business developing as something not restricted to simply seasonal collections but as something more fluid. This in turn would I hope to grow an audience that champions sustainable conscious buying.
YOU UP-CYCLE YOUR SIGNATURE OLIVER FJ JONES BAGS – HOW DID THIS COME ABOUT?
The want to develop a range of bespoke bags began when I started to experiment on different surface mediums. One of the first bags I unintentionally created was originally used as a 1950's binocular box case. By adding the warped homo pattern to the PVC coating the whole use of the bag changed. I'm always on the lookout for good quality, often unusual, evening bags that are ripe for designing on. Funnily enough, since then my whole family has been scouting for them. I like how the bags I design aren't simply used for the purpose, but also used as display items. I think there's something really interesting there about where fashion may enter more of an art sphere.
WHAT'S NEXT FOR OLIVER FJ JONES AS A DESIGNER/BRAND?
The development of my online presence is a priority for my brand right now. I have been slaving away at producing an immersive representative online website which showcases my previous work. Its often been quite challenging learning so many skills on the job but I cant wait to share my efforts with everyone. It's quite an exciting feeling transitioning my current way of working to a more professional bespoke online experience. Going back right to the start of my collections and marketing them has been really holistic. Once these items have started their next chapter in someone else's closet, I think the scope for really honing in on my own brand identity can begin. I want to push this idea of immersive design and transition to a clearer vision of what an Oliver FJ Jones piece can really be and mean to people.