Graduate Showcase 2022
09.11.22
Photography: Scott McWilliam
Styling: Graham Peacock & Tamara Turnbull
Designers:
Rowan Stallan, Martha Gladwin, Beatrix Booth & Laura O'Neil
Models:
Aicha Benjellon, Fatima Benjellon & Radia Benjellon
How are young designers expected to navigate the fashion industry today? Emerging from art school, university, or personal training in the midst of an ever-changing creative landscape and reliant upon algorithms that work against startup brands, it can seem demoralising. But a visit to any one of Scotland's graduate showcases this year wasn't marred by the reality of the current industry, or limited by an education experience impacted by lockdowns. Instead, the pieces showcased seemed to exist in fantasy worlds all of their own, inviting visitors in to experience them in their full immersive glory. Whether housed physically in graduate showcases or presented in online portfolios, the collections from graduate students this year steep themselves fully in creative hedonism. With impeccable originality and striking playfulness, the future of Scotland's fashion industry lies rest assured in the hands of these upcoming names.
In our showcase, we spotlight just four out of many brilliant Scottish creatives graduating from Fashion Design courses in Scotland this year.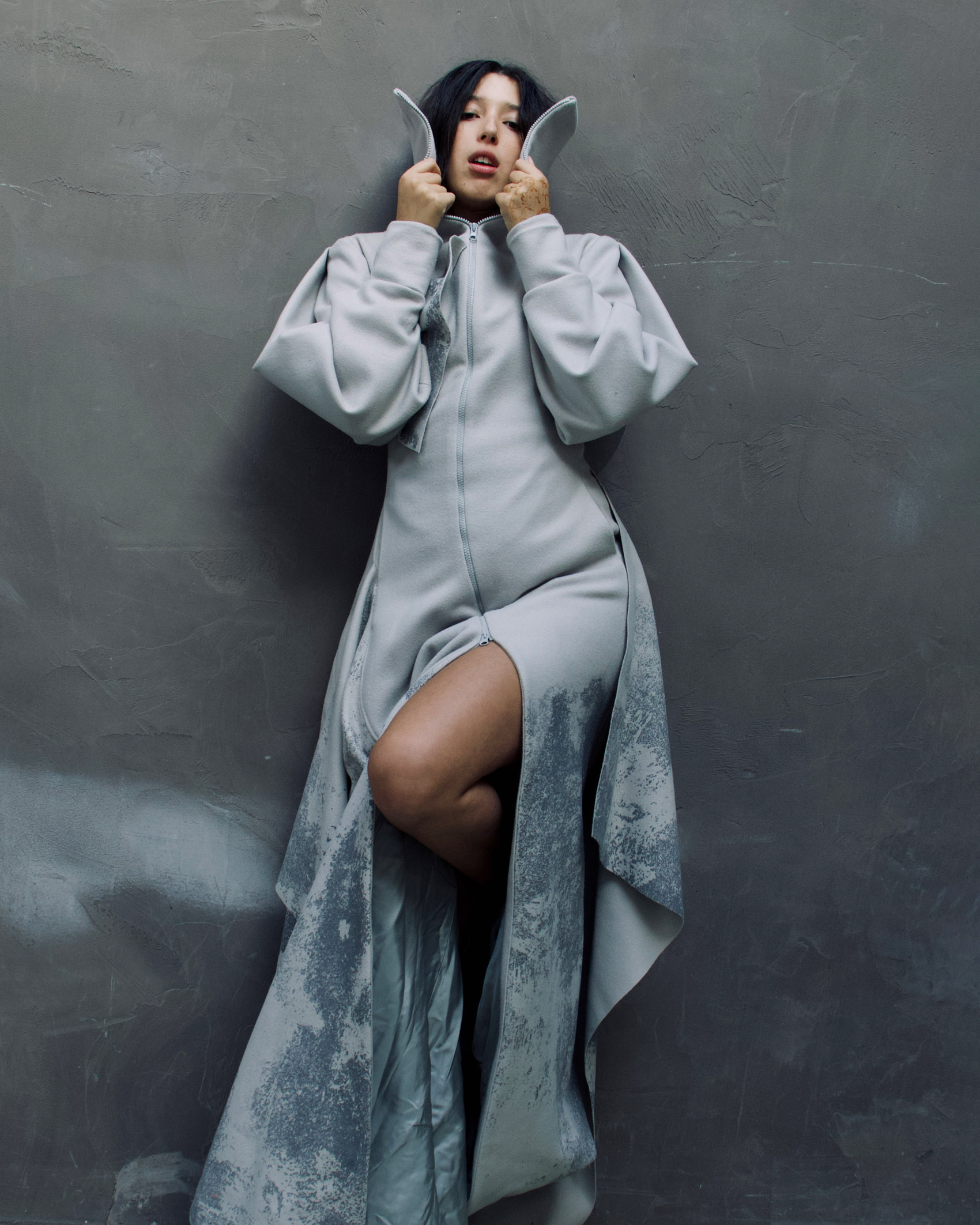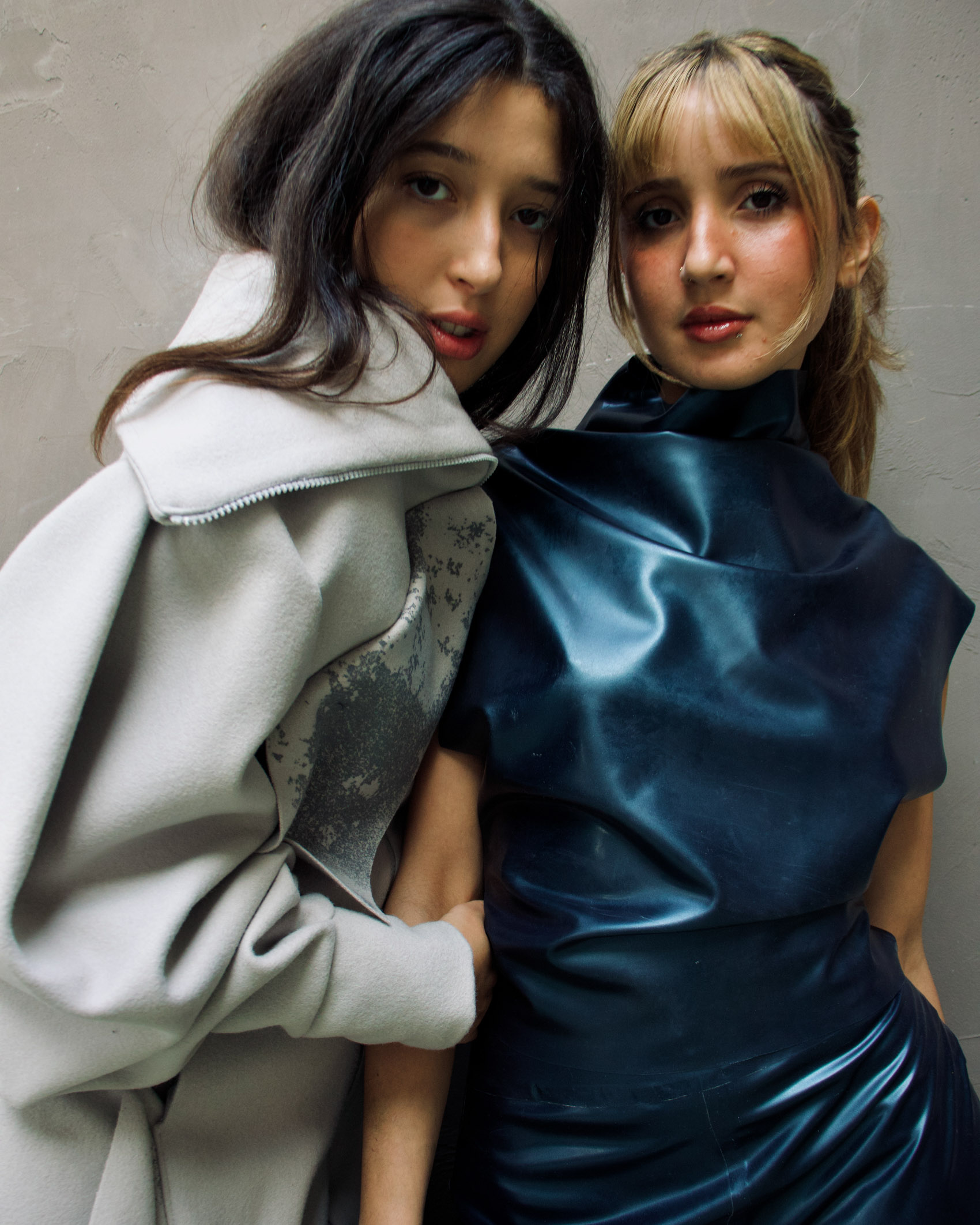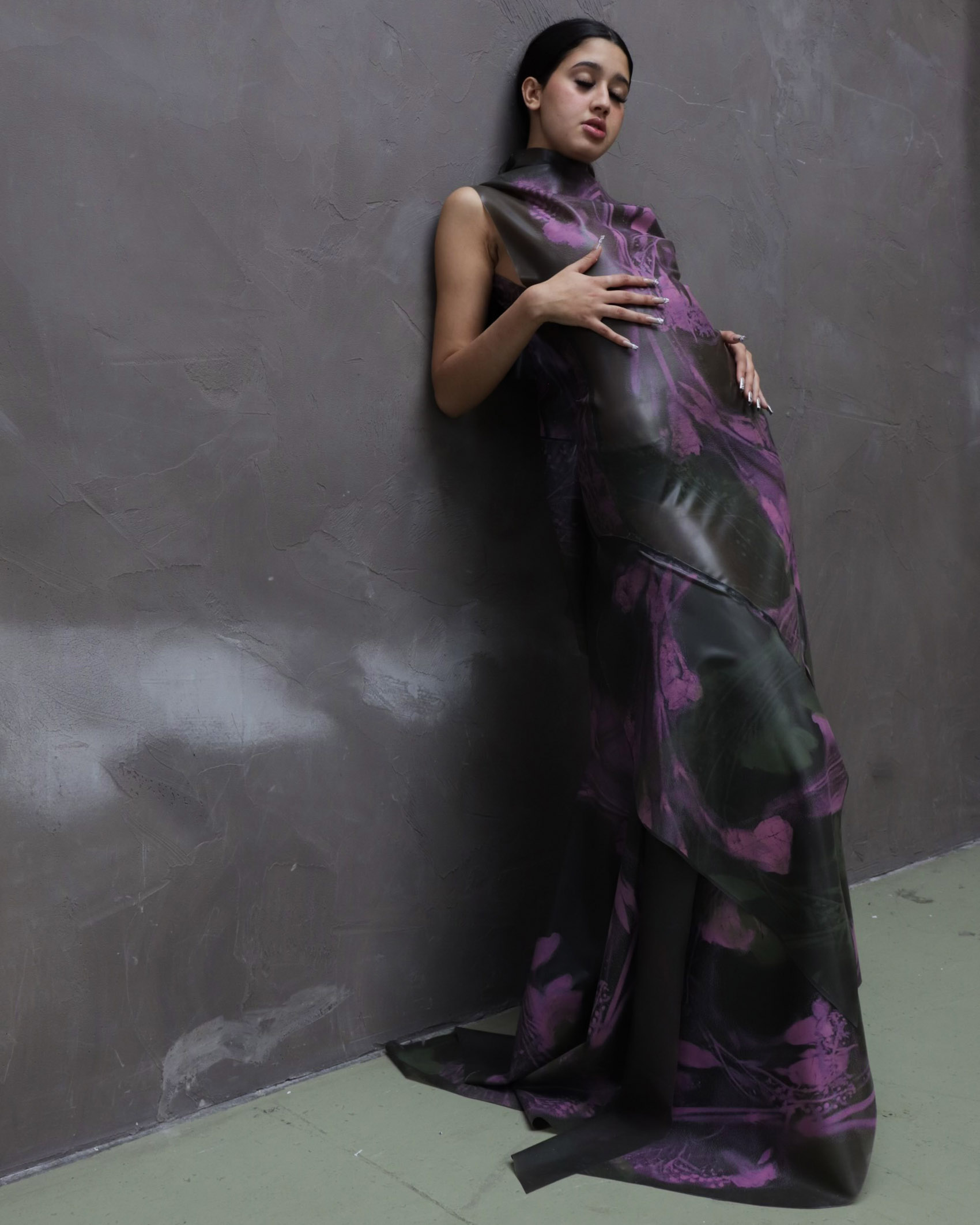 Rowan Stallan
The majority of this collection is made entirely from latex. It adds such a beautiful texture. A lot of the pieces look like liquid metal when they catch the light. What drew you to working with this material, and how did you find the process?
My collection explores themes surrounding the Scottish landscape, the weather and the effects of nature. Within my work I want to celebrate Scotland's sublime weather climate – creating an underlying mood within my collection, dark yet beautiful, reflecting the elements of decay, the Scottish landscape and the harsh weather conditions.
I wanted a material that would represent and communicate my concept. I was drawn to working with latex as I felt it captured a sense of the dark and gloomy landscapes within my research. Moving and shimmering like liquid rain, it has such a beautiful quality to it. Having never used latex before I faced a few challenges, having to learn new ways of construction and application, as well as overcoming methods of printing on latex. However, through sampling and experimentation I was able to find appropriate outcomes which were functional and durable.
From the cuts to the colours, this collection feels like an ode to vintage design styles, with a modern update. They feel elegant yet wearable. What eras, artists or designers inspired you when you were working on these pieces?
When designing my collection I gathered my inspiration from a number of abstract and contemporary influences. I looked at 90's Maison Margiela minimalism to 80's bomber jacket silhouettes and the iconic film Blade Runner and its influence on fashion and design.
Find more of Rowan Stallan's work here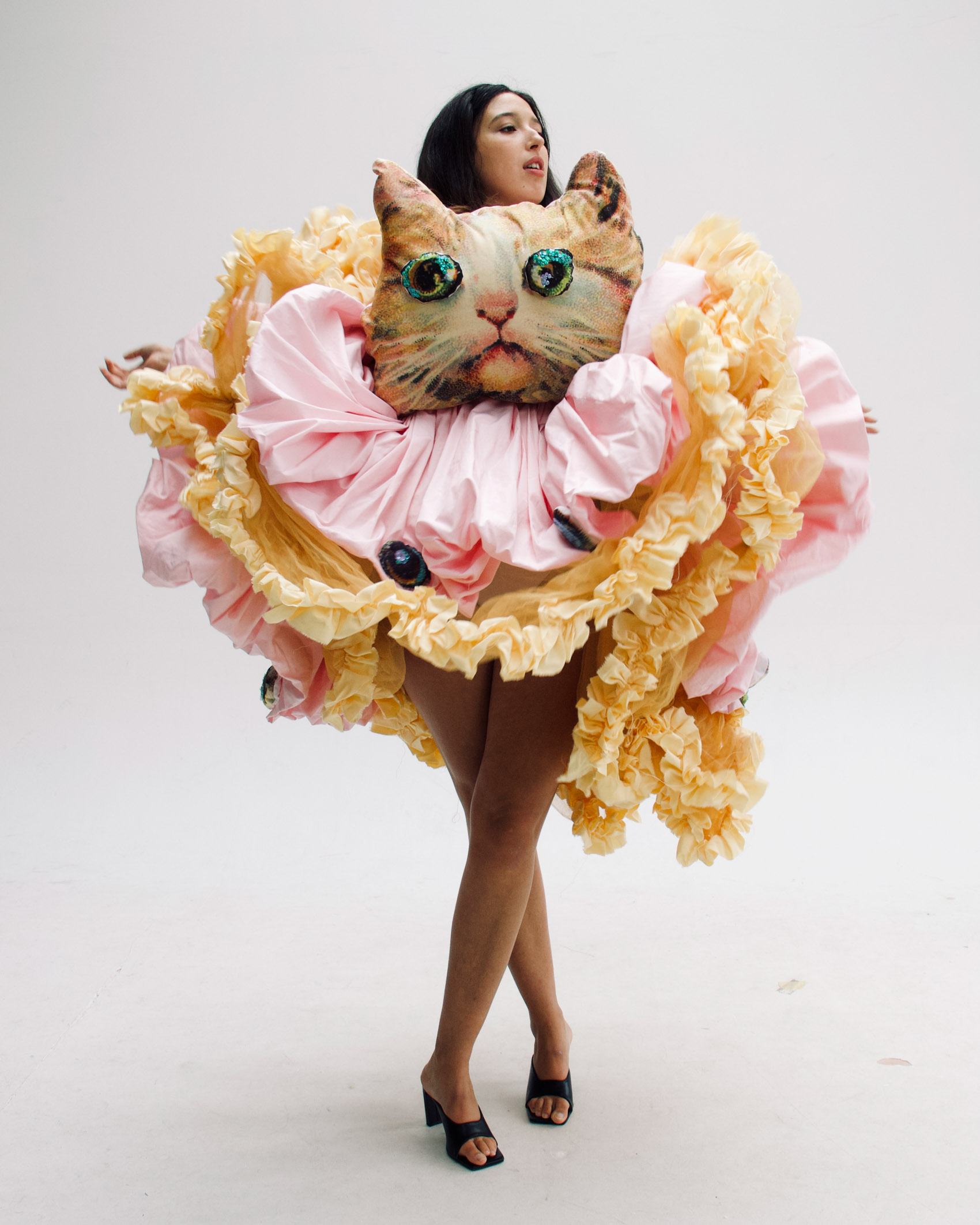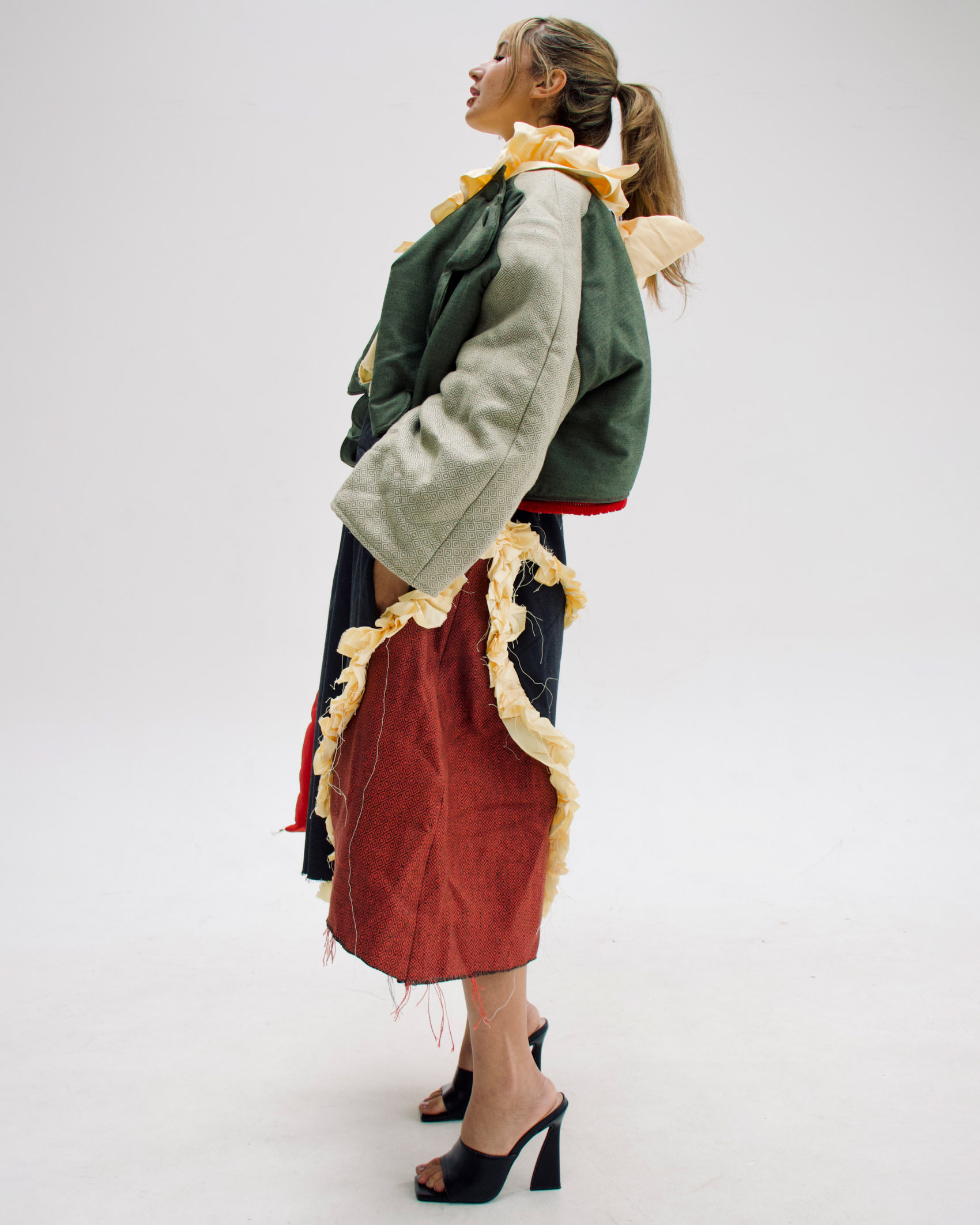 Martha Gladwin
Obviously, we're obsessed with the cat dress. We're really interested to know where your references came from on this collection.
Thank you! This collection is called 'Make Amends' because I aimed to make amends for the traditional male gaze by putting women's wants and needs first, something that is too often missed in fashion. I also used second-hand textiles to do my bit to make amends for the huge environmental impact fashion has. It's visually inspired by kitsch imagery and the 'make do and mend' movement that I came to from looking at antique scrap books. Overall, I wanted to make clothing which empowers the wearer and is a source of sheer joy and entertainment.
This collection feels very playful. The pieces radiate joy – hedonism over practicality in the best way possible. What is it that draws you to creating fashion?
I'm so glad you think so, creating something joyful and entertaining is always one of my goals. Yes! I wouldn't claim they are practical but everyone who's worn them has told me how comfy they are which was also one of my goals, particularly with the plus sized looks as this can be overlooked.
I remember early in the making stages at uni my technicians (Dan and Ashleigh) told me that what I was working on didn't show my sense of humour, so I scrapped what I was going to do, and I went back to look through my work for where my personality did show through. That's when I decided I had to make the cat dress. It's easy to forget to just be yourself in the intense space of final year, but I find the outcome is better when I enjoy the process! I think that the empowerment and liberation that can come with fashion is what draws me to it, then I have a drive to fix some of the damages fashion has also done.
Find more of Martha Gladwin's work here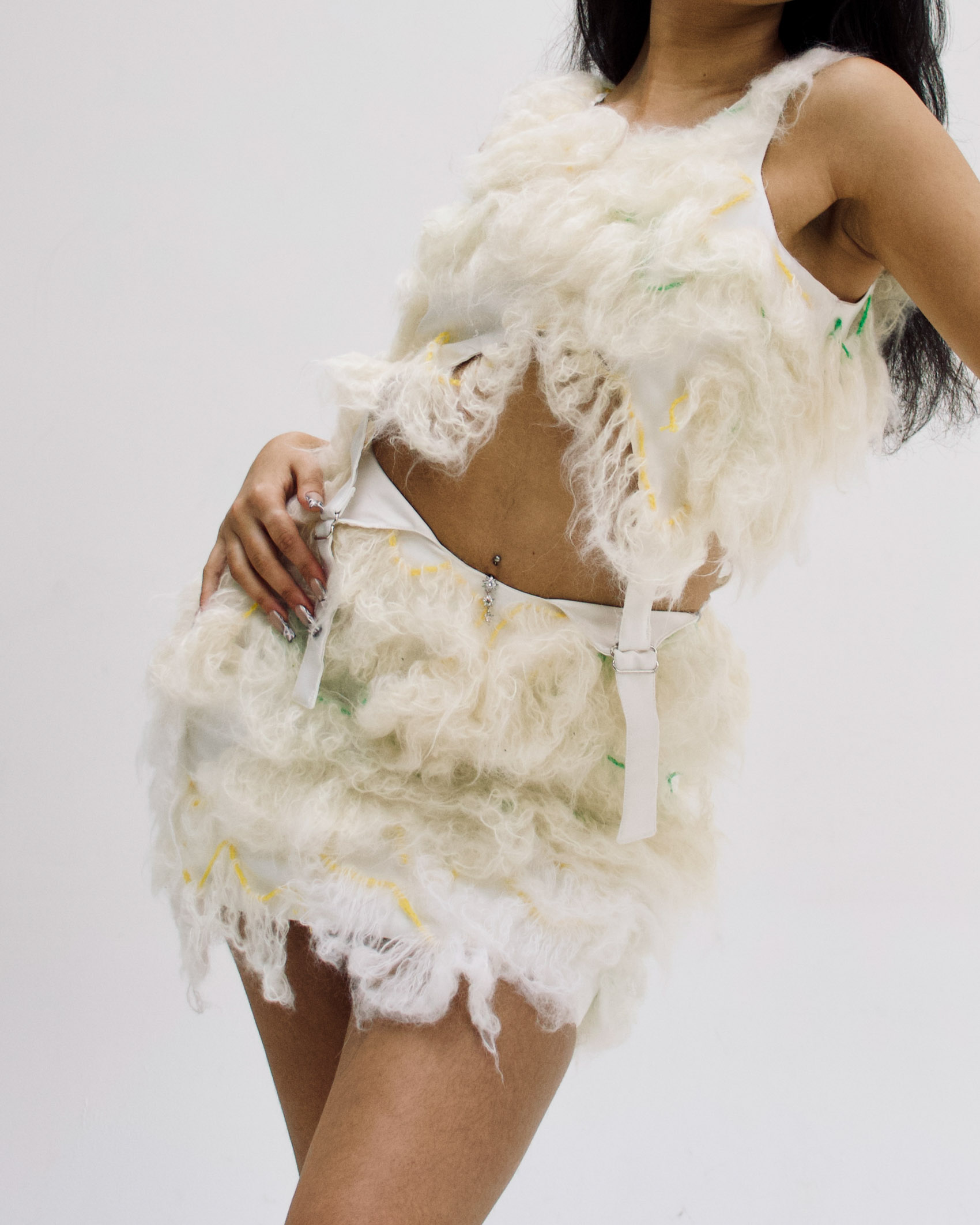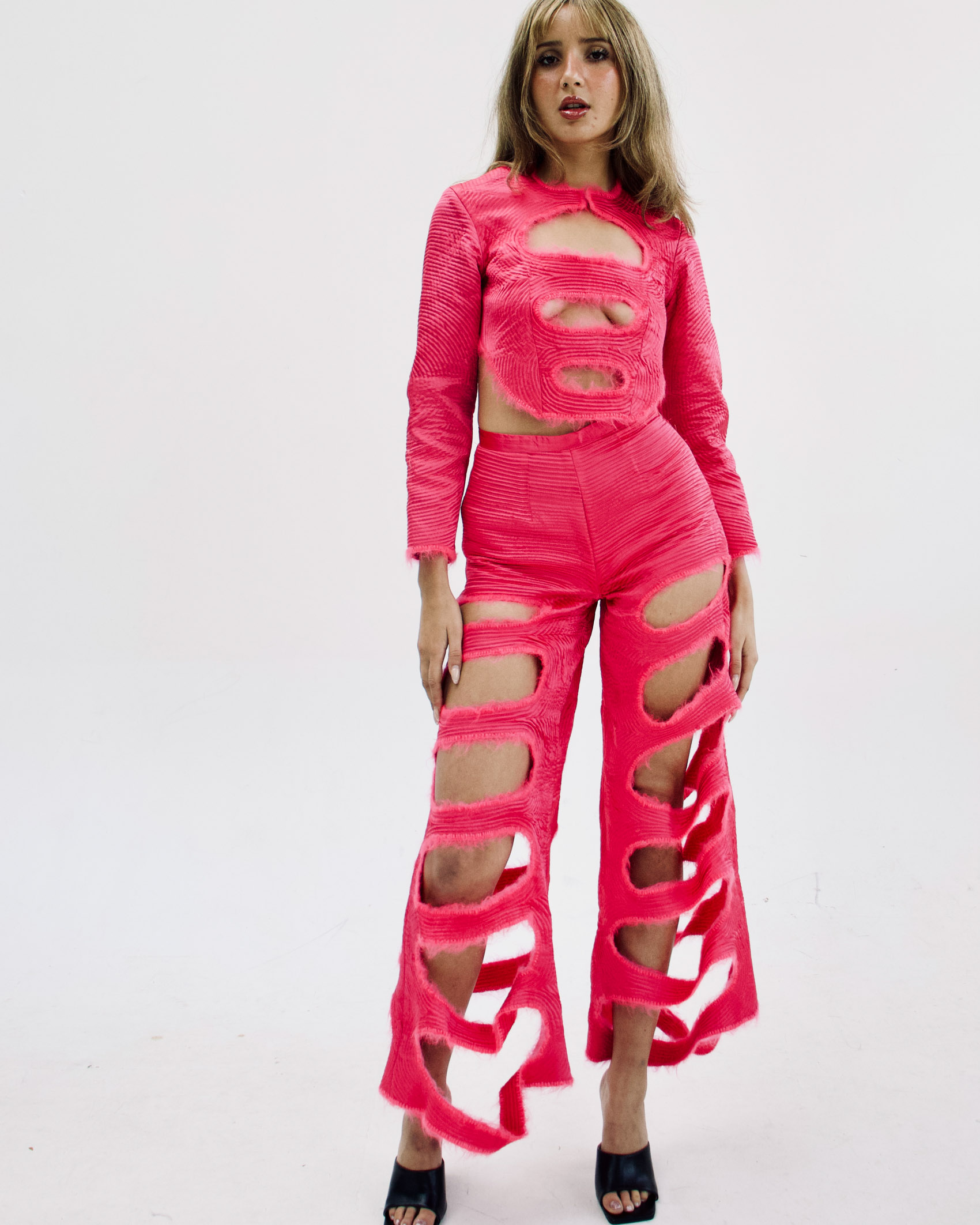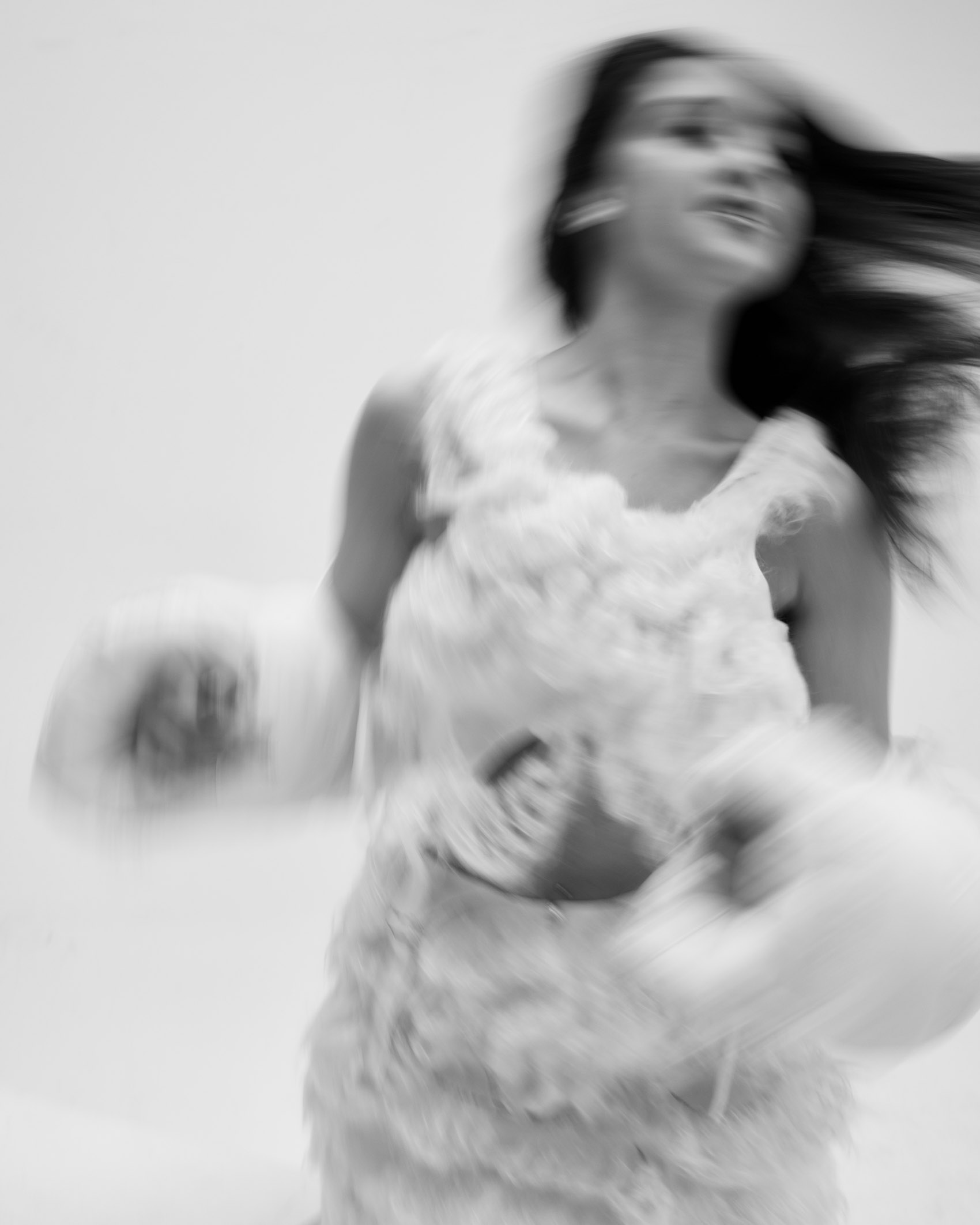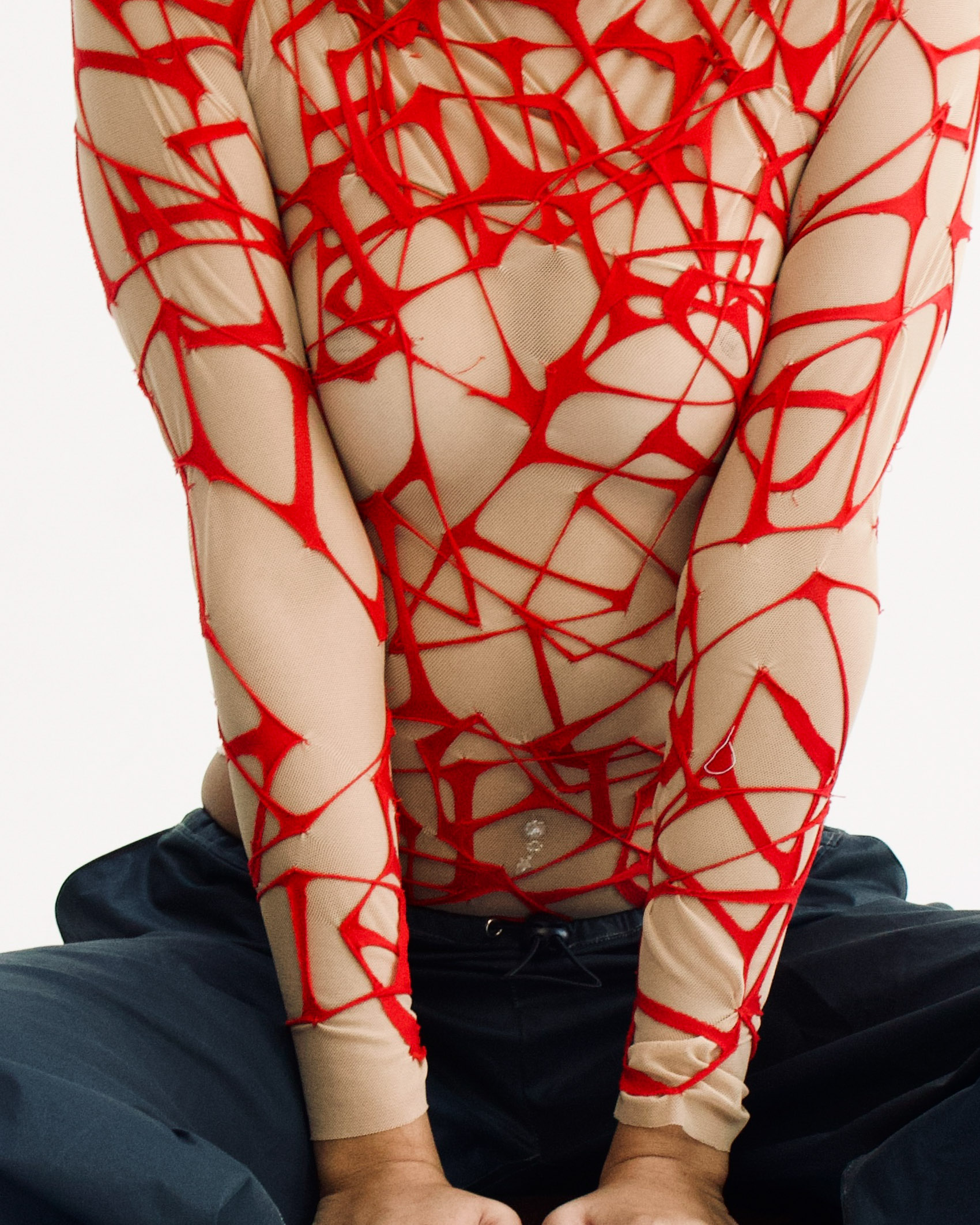 Beatrix Booth
You're playing with shape and texture in really interesting ways with this collection. Can you talk us through the inspiration behind these pieces?
SUPERNATURE is an exploration of the similarities between ancient intelligence (fungi) and artificial intelligence, through a science fiction lens. The silhouettes are a balance between powerful and delicate – a reflection of female strength and resilience. With the development of technology such as artificial intelligence, I wanted to explore the connections between two polar opposites: mushrooms and machines.
One of the key elements in this collection is versatility. Items are adaptable and reversible – they allow the wearer to personalise the looks to themselves. As a designer, is this relationship between the wearer and the clothes important to you?
I think it's incredibly important that the wearer has an emotional connection with the clothes that they own. A common theme in sci-fi movies, particularly from the 1960s-80s, is the scantily clad femme fatale – purely an object of male desire. I wanted to take this archetype and give her new power through her clothing. SUPERNATURE has been designed to empower the wearer, whoever they may be. Clothing can be so powerful in the way it makes you feel, so why not have fun with it?
Find more of Beatrix Booth's work here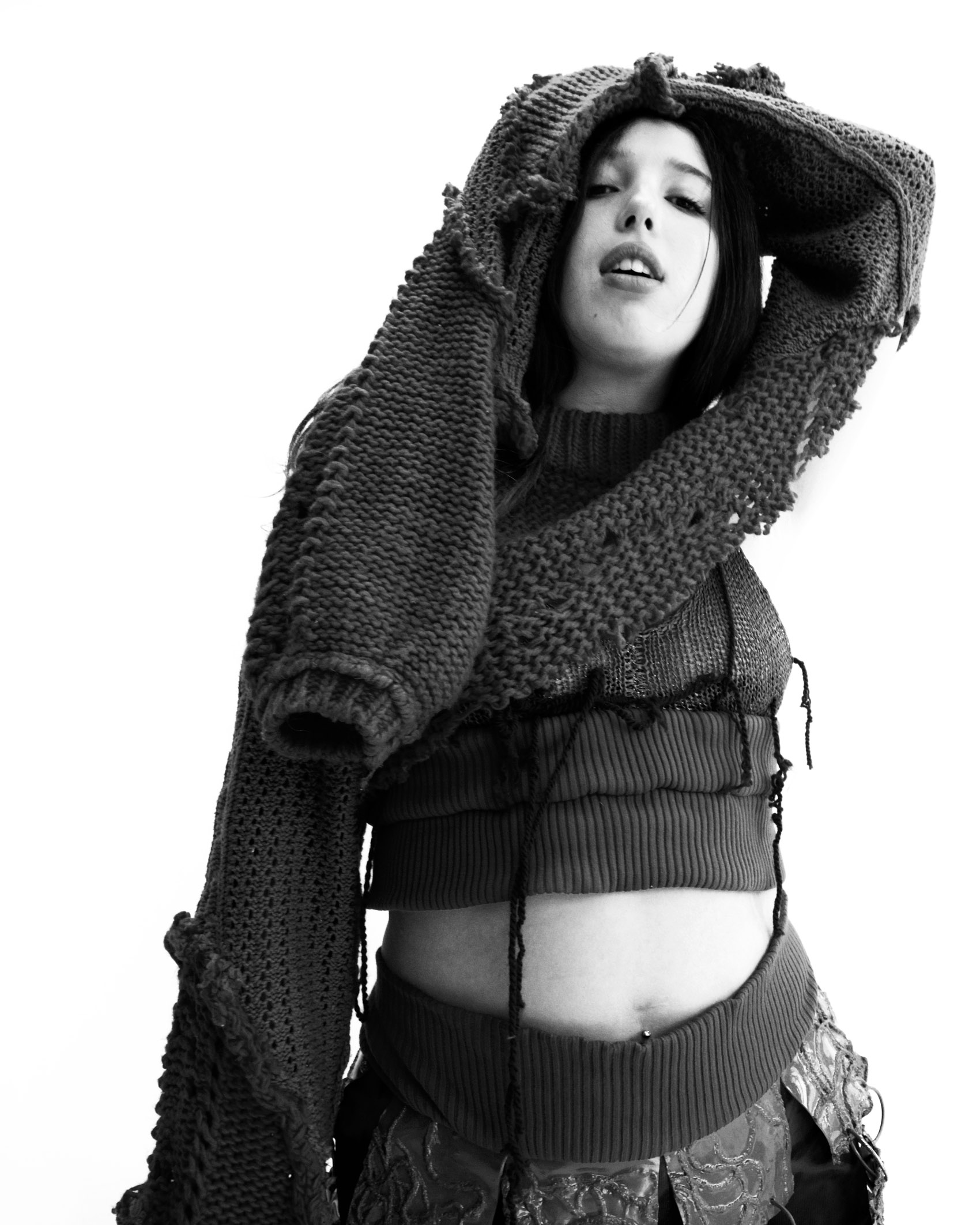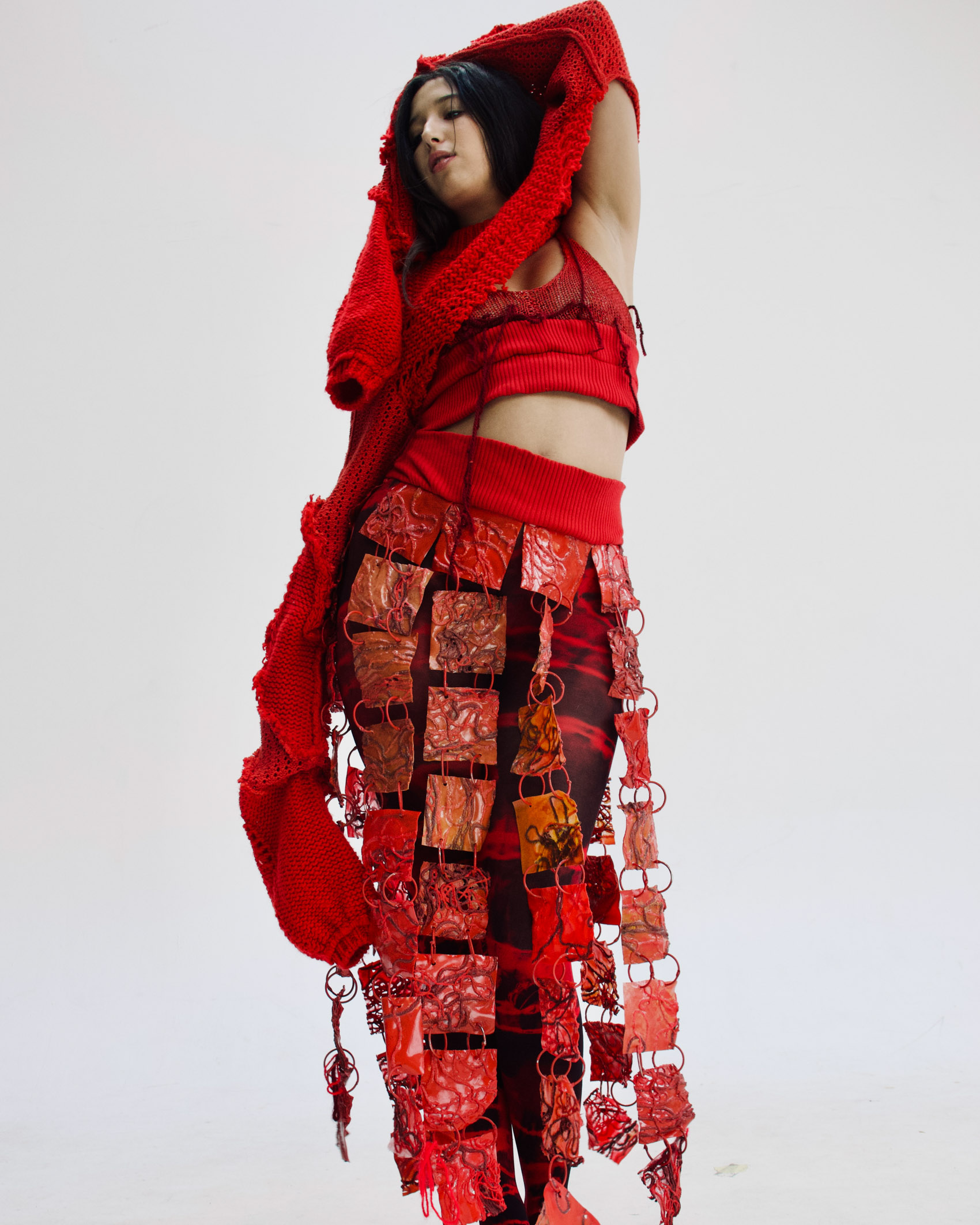 Laura O'Neil
Both your graduate collection and a couple pieces from your third-year collection are featured in this shoot. From colour to materials, they feel thematically very different. Can you talk us through the process of designing this new collection?
For my final collection [Un]exposed, it does appear very different from anything I've done before. I wanted to create a collection which would enable a conversation, and I chose a concept that was close to home and one I also felt is spoken very little of today. The concept for this collection was disordered eating and the struggles surrounding it. These are struggles I grew up with and it was never something I talked about much. As I grew older I realised we don't embrace our bodies nearly as much as we should and I wanted a collection which combined the two together. The collection sort of has a hidden message within the contrast of the fabrics and garments. I wanted to use tight fitting mesh that clung to the figure that enhanced the body's shape, but at the same time use padded and puffer oversized garments which were distracting and that would distort the body. This is really clear in my mesh dress and oversized puffer jacket look. Growing up I often tried to hide my body with oversized clothing and bigger garments so no one could really see what my body was like. However, in this collection, when you remove these larger padded pieces, what's underneath is still just as beautiful. And for me, that's what counts.
At the start of a project, where do the ideas for your work tend to come from? Do they grow out of thematic interests, or a desire to play around with new colours, textures, and design techniques?
I always love trying new things, even if at the start you have no idea how you're going to make something. You need to have fun with the design stage because anything is possible and that's why I love my red look (VESSLE) so much. The concept for this look was mycelium and I made this from my living room during lockdown. The skirt fabric I hand made from scratch after weeks of constant experiments but I was determined to be successful. I managed to make my own plastic which took about a week to fully dry before being able to construct it into a skirt. I would love to play around with this technique more and push it further. I think you can pull inspiration from anything you love and want to experiment with. I always want my designs to be bold and striking, using pops of colour and interesting fabrics to create a fun visual.
Find more of Laura O'Neil's work here